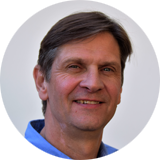 Ian Ashley
IT Leadership Roles Former roles - Unipart
SUMMARY
A highly experienced Process and IT Consultant with transformation delivery expertise across the private and public sector with a multi-disciplined background in commercial management. Ian has extensive experience in Operational Leadership across a variety of areas – Finance, IT, Supply Chain, Programme & Project Management, Continuous Improvement. A Director of The Change People, Ian was previously Head of Process Improvement for a large Consultancy, engaged in transformation projects for global clients in Pharmaceuticals; Oil and Gas; Distribution; Automotive and Health. He has an engaging and involving style – challenging thinking and driving senior teams to develop and deliver integrated strategies for improving and sustaining value to customers resulting in increased bottom line performance.
PROFESSIONAL BACKGROUND
Development, implementation and sustainment of continuous improvement strategies


Programme and Project Management


De-risking IT implementations by creating robust process models, strong business involvement and innovative 'pre-go-live' simulations.


Experience in delivering transformation assignments for clients globally. Solutions focussed on the successful integration of people, process, technology and data strategies to optimise business performance and cost efficiency.
We'd love to hear from you
Tell us about your requirement and we'll be in touch