Empowering AI-Driven Data Transformation - Microsoft Fabric Consulting Services
Unlock the power of AI and revolutionize your data management with Microsoft Fabric. Our Microsoft Fabric Consulting Services bring together AI and all your data sources and analytics services, empowering you to reshape how you access, manage, and act on data and insights.
Intelligent Quality Accelerator
The AI powered IQA solution automatically generates test cases from user stories, creates test scripts, and automatically spins up test infrastructure infra and test execution environments.
It is also a full test suite management system improving your software quality and reducing QA effort by at least 65%.
What is Microsoft Fabric?
Microsoft Fabric is a groundbreaking Software-as-a-Service (SaaS) platform that serves as a one-stop-solution for analytics, empowering organizations with a comprehensive and streamlined analytics ecosystem from data ingestion to Business Intelligence and actionable insights. Microsoft Fabric enables better integration with other services, making data more accessible to business users, and using AI to increase productivity.
In today's data-driven world, organizations face significant challenges when it comes to deriving valuable insights due to complexity and fragmentation. Integrating various products, managing security, and ensuring seamless data flow can drain valuable time and resources.

Recognizing these hurdles, Microsoft Fabric takes a bold step forward by integrating Azure and open-source capabilities within its Power BI ecosystem.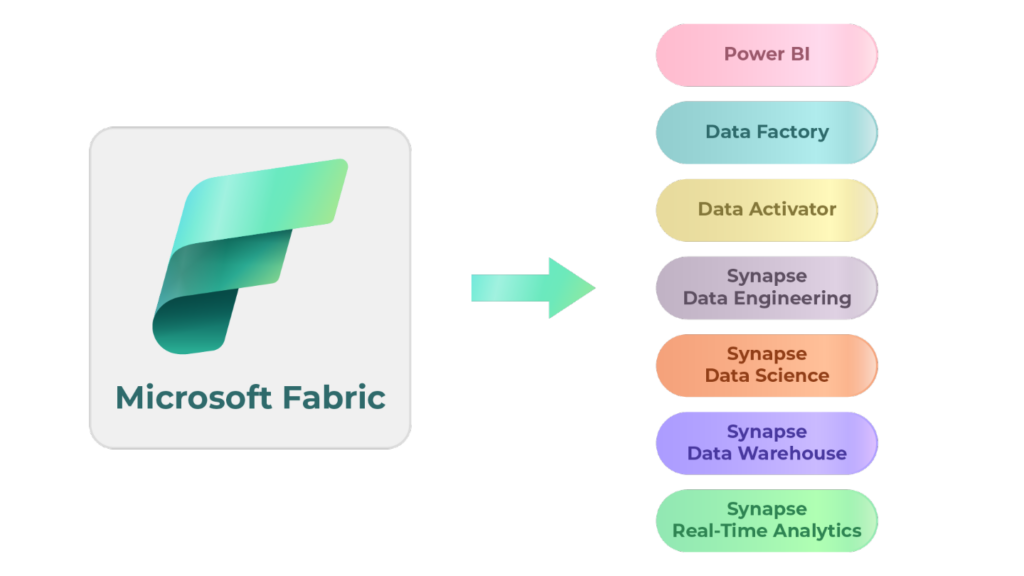 Microsoft Fabric architecture: The core components of the Microsoft Fabric
Leverage the power of Microsoft Fabric's architecture with Power BI, enabling interactive and insightful data visualizations, customized charts, and real-time dashboards for data-driven decision-making.
Seamlessly integrate and orchestrate data workflows with Data Factory, effortlessly moving and transforming data across various sources and destinations while ensuring scalability, reliability, and efficiency.
Empower business users with real-time data detection and monitoring capabilities using Data Activator. Define patterns and conditions to stay informed about critical events, enabling proactive decision-making and agile data monitoring.
Unlock the potential of big data processing and analytics with Synapse Data Engineering. Seamlessly ingest, transform, and prepare data for analysis, enabling efficient data integration and advanced data engineering workflows.
Leverage Synapse Data Science to build and deploy machine learning models at a scale. Tap into advanced analytics, collaborative experimentation, and seamless model deployment to derive meaningful insights and drive data science innovation.
Benefit from a scalable and highly performant cloud-based data warehousing solution with Synapse Data Warehouse. Seamlessly integrate and analyze large volumes of structured and unstructured data to uncover valuable insights.
Synapse Real-Time Analytics
Harness the power of real-time data processing and analysis with Synapse Real-Time Analytics. Process streaming data as it arrives, enabling instant insights, anomaly detection, and rapid response to changing conditions.
How Ignitho Technologies can help?
Ignitho brings you a game-changing analytics solution powered by Microsoft Fabric, offering a unified approach to data analysis. With our expertise in Generative AI and comprehensive knowledge of the Microsoft data platform, Ignitho is your go-to partner for achieving analytics excellence.
Innovate faster with Microsoft Fabric
We are a certified Microsoft Silver Partner, giving us access to Microsoft Fabric—a comprehensive suite of cloud-native technologies designed to help you move faster and get more out of your existing infrastructure.
Deliver seamless customer experiences
Our team of experts can help you develop custom applications and solutions that deliver seamless customer experiences across web, mobile, and IoT devices.
Unlock the potential of your data with AI
We employ cutting-edge AI technologies to unlock the potential of your data. From predictive analytics to natural language processing, our team is here to help you take advantage of all that AI has to offer.
Key Features of our Microsoft Fabric Service
Comprehensive analytics solution
Unlock the power of integration and optimization with ease, as Fabric enables effortless sign-up and delivers immediate business value. Empower your entire analytics team, from engineers to scientists, analysts, and business users, with tailored experiences that promote familiarity, productivity, and seamless collaboration.
The presence of diverse data products with varying formats in a single data lake often leads to duplicated data and concerns of being tied to a single vendor. As a software-as-a-service (SaaS) offering, OneLake is a seamlessly integrated, multi-cloud data lake within the Fabric ecosystem, specifically designed to tackle these challenges head-on.
Microsoft Fabric revolutionizes data management, streamlining processes for customers. Moreover, Fabric understands the importance of data security and will introduce a universal security model, meticulously managed within OneLake. This ensures consistent and comprehensive enforcement, enhancing data protection measures for ultimate peace of mind.
Fabric seamlessly integrates the Azure OpenAI Service throughout its infrastructure, unlocking the true power of customer data. Developers harness generative AI for advanced analysis, while business users gain invaluable insights. With Copilot integrated into Microsoft Fabric, effortlessly create dataflows, build pipelines, generate code and functions, develop ML models, and visualize results using conversational language.
Introducing Data Activator in Microsoft Fabric—an upcoming feature empowering business users with real-time data detection and monitoring. Define custom patterns to search for critical events or changes, spanning warehouses and streaming data. Set up rules, triggers, and automated actions without coding. Proactively identify opportunities and make timely decisions with ease, leveraging real-time insights. No extensive technical expertise required.
Revolutionize data visualization with Microsoft Fabric. Connect seamlessly to data sources, within OneLake and externally, and leverage Power BI for interactive visualizations. Customize charts, graphs, and maps to communicate data effectively. Explore data with drill-down, filtering, and slicing. Create live dashboards and embed reports in Microsoft 365 apps for collaboration. Gain actionable insights with Fabric's comprehensive data visualization capabilities.
Empower your business users with Microsoft Fabric's seamless integration with Microsoft 365 applications. Cultivate a data-driven culture where informed decision-making is ingrained at every level. With Power BI deeply embedded in Fabric, seamlessly access relevant data from OneLake within popular apps like Excel, Teams, PowerPoint, and SharePoint. Maximize the value of your data assets with effortless discovery and accessibility within Microsoft 365.
Achieve cost-effectiveness with Microsoft Fabric. Its unified pool of computing capacity allows seamless utilization of workloads, optimizing resource allocation and reducing friction. This comprehensive approach enhances user experience while minimizing costs by dynamically allocating unused compute capacity across workloads, eliminating waste, and maximizing efficiency.
Transform your organization's data management with Microsoft Fabric. Bring your data into the era of AI and empower your teams to make data-driven decisions with confidence. Discover the possibilities and unlock the true potential of your data.
Our solutions & accelerators
Intelligent Data Accelerator
Ignitho's Intelligent Data Accelerator (IDA) for Media uses AI and dramatically reduces the time taken to process incoming campaigns, clickstream, and other data files by ~60%.
Intelligent Quality Accelerator
The AI powered IQA solution automatically generates test cases from user stories, creates test scripts, and automatically spins up test infrastructure infra and test execution environments.
Intelligent Automation Accelerator
Ignitho's Intelligent Automation Accelerator (IAA) brings the power of AI to core RPA capabilities and reduces initial training and retraining costs by as much as 70%.
Customer Data Platform Accelerator
Ignitho's CDP accelerator allows implementations in as little as 2 Weeks.
Google Analytics 4 Migration Solution
Use our GA4 migration solution to maintain full history of your Universal Analytics (GA3) data in a unified dashboard instead of having to access GA4 and GA3 reports separately.
Tell us about your requirement and we'll be in touch