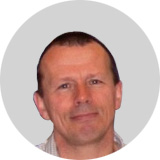 Peter Heather
IT Leadership Roles ActionAid, WaterAid
SUMMARY
Peter began his professional IT career following an MSc in Computing in 1984. Since then he has worked for a variety of companies including ICL, Philips and AOL until joining the NGO sector in 2000. Whilst working for Philips in the late 80's Peter remodelled their branding to: "Let's make things happen" and has been working to deliver IT projects and programmes ever since.
PROFESSIONAL BACKGROUND
Provided the focal point for all IT activities relating to the travel industry.


Managed emulation software development with Westinghouse.


Managed ticketing software development with Texas Instruments


Co-ordinated prototype developments of PC workstations for Covia Corporation.


Successfully developed and implemented business plans with National Sales Organisations.


Managed the pilot implementation of a back-office accounting software package.


Project management of transactional internet developments for major airlines.


Implementation of on-line booking systems. (www.british-airways.com)


Established a project methodology for Teletext (An implementation of PRINCE2).


Established a projects department that included 6 project managers, 1 business analyst and administrator.


Responsibilities include developing content projects, partner integrations and products into the services for AOL (Proprietary), AOL.co.uk, Netscape and CompuServe.


Established a streamlined production process for AOL Programming enabling a complete channel redesign of the service within 3 months. (21 channels)


Responsible for creating and implementing the application roadmap for ActionAid and for all IT service management in the UK.


Responsible for the development, implementation and management of IT and systems in WaterAid globally to ensure they are fit for purpose for a growing international development NGO (non-government organisation).
Collaborating with IT leaders to deliver real value from IT Systems.
We'd love to hear from you
Tell us about your requirement and we'll be in touch