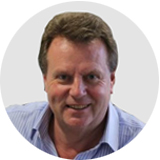 Paul Parker
IT Leadership Roles RS Components & Rexel
SUMMARY
Paul Parker has more than 20 years' experience and a track record of achievements in a number of different positions, such as CIO/COO/General Manager and across several continents (UK base). Paul has extensive IT experience blended with General management roles including COO of Digital Channel with Sales & Marketing responsibility, and Managing Director of a Distribution business.
PROFESSIONAL BACKGROUND
C-level systems transformation experience on a global basis, replacing legacy systems with modernised infrastructure and ERP solutions.


Leading proponent of cloud based solutions, including Microsoft CRM & Office 365, resulting in increased service delivery with magnitude of cost benefit.


Established & managed digital channels, revenue generating on a global scale, recognised through numerous awards – benchmarks in both B2B & B2C sectors.


Operated on international basis across numerous countries, with sector exposure in Manufacturing, Distribution, Wholesale & Retail – detailed understanding of supply chain.


Intensively experienced with a portfolio of delivery in direct and matrix reporting teams.


Management, control and development of information, voice and data communication systems for all European data centres involving over 100 personnel


Managed implementation of primary business strategy of a common approach to customers across operating companies of UK, France, Germany & Italy.


Overall P&L performance of autonomous business, sales £60m, cost base £12m and 250 employees.


Leadership & management of the Ecommerce Division including strategic definition and implementation across global organisation.


Leadership & management of the Ecommerce Division including strategic definition and implementation across global organisation.


Creation and operation of Marketing and Sales teams to drive channel revenue, as well as technical development.


Operational responsibility for Information & Communication Systems within the UK & Ireland (4,000 user base).


Rescue & re-implementation of Movex solution which had been central to previous business demise – successful base generated which enabled business recovery.


Successful creation & launch of a number of web channels including , www.neweysonline.co.uk & www.naturalsparx.co.uk (Brand Award winning)


Systems, Communication & Web Channel responsibility across UK, Ireland, Holland, Sweden, Norway, Finland, Baltic States & Russia.


Formation and leadership of IT Steering Groups in various counties involving (Board level) Process Owners, and management of overall project team for system transformation (c200 personnel).


Established single IT Division through consolidation of teams both within UK and European markets.


Creation of IS/IT strategy providing 3 year outlook for full system modernisation.
We'd love to hear from you
Tell us about your requirement and we'll be in touch