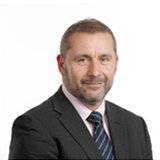 Keith Woodcock
IT Leadership Roles Avis & Travelport
SUMMARY
Keith is a global technology professional with vast experience working across multiple industry sectors. He has proven experience of operating in a CIO capacity and engaging at board level. He possesses strong technical knowledge and is proficient in commercial strategy, application integration and digital delivery. Keith has worked on multiple large Mergers and Acquisition transactions, including Travelport's purchase of Worldspan and Avis USA acquisition of Avis Europe.
PROFESSIONAL BACKGROUND
An experienced board director and transformational change leader with characteristics of being flexible, high energy with a "hands on" approach and reputation for finding solutions and getting things done.
Ex-CIO of Rank Group and Avis EMEA
Responsible for the delivery of a high-performance technology teams totalling 1100 employees working across the globe.
Has led large transformation initiatives delivering in region o f $8m annual savings.
Experienced in sectors like technology payments, travel start-ups and significant M&A delivery.
An acknowledged subject matter expert and thought leader in technology M&A and the IT industry.
A strong PE experience having worked closely with Cendant and Blackstone on deals totalling $15bn, including the acquisition of Travelport
We'd love to hear from you
Tell us about your requirement and we'll be in touch