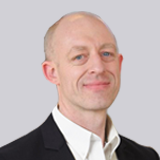 John Monks
Co - founder at Cambridge space, IT Leadership Roles at NYPD and HP
SUMMARY
John loves to change things for the better. He's passionate about innovation, creativity and helping others to achieve what they're capable of, coaching and facilitating teams. He's also on the board of ActionAid, working with the poorest women and children in the world, changing their lives for good.
He's built a career in management consulting, establishing DigitasLBI's global Digital Business Design practice and Curve in London and New York, transforming many of the world's leading organisations.
John is an expert facilitator, certified team coach and engaging speaker. A participant in the groundbreaking global creative leadership course, THNK, John's joining forces to catalyze breakthrough solutions to the world's societal challenges.
PROFESSIONAL BACKGROUND
Co-founder at Curve, John is an expert in creating exceptional leaders who need creative resourcefulness and a clear sense of purpose in this fast changing world John helps leaders to develop their personal vision and creative skills which will make them successful, by coaching them, through various workshops and facilitated programmes.


Co-founder at CambridgeSpace


Mentor at Cambridge MBA, Cambridge Judge Business School


Trustee at ActionAid UK


Judge and Mentor at MassChallenge, MassChallenge is the world's largest startup accelerator and competition, supporting high-impact, early-stage entrepreneurs with no strings attached. As of 2016, MassChallenge's 835 startups have raised $1.1B in funding, generated over $520 million in revenue and created over 6,500 jobs. He is judging applications and mentoring successful startup teams in the 2016 cohort.
We'd love to hear from you
Tell us about your requirement and we'll be in touch