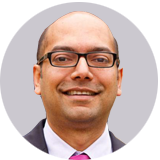 Professor Judge Business School
University of Cambridge
Jaideep is a thought leader in the area of Frugal Innovation, who has been extensively researching on how multinationals are using emerging markets in Asia, Latin America and Africa as a lab to do affordable and sustainable innovation for global application. Jaideep is the co-author of "Jugaad Innovation", described by The Economist as "the most comprehensive book yet" on the subject of frugal innovation. His most recent book, "Frugal Innovation: How to Do More with Less" was published in February 2015 and won the CMI's Management Book of the Year Award 2016.
Tell us about your requirement and we'll be in touch