I recently moderated a webinar on Creating AI Enabled Customer Data Platforms with my colleagues from Ignitho and Domo. 
In today's data-driven world, enterprises have their task cut out when it comes to harnessing the full potential of their data. So on this webinar, we tackled the subject of how enterprises can overcome the last mile adoption challenges they face with AI.
We also showcased – using a real time demo – how AI enabled Customer Data Platforms (CDP) can be created that address the crucial needs of :
Real time integration of AI insights with BI dashboards.
Connecting AI insights to business applications in real time
Achieving closed loop analytics by simplifying ML Ops
If you haven't seen the webinar yet, I'll recap the key highlights for you here in this blog post.
First, I'll explore the critical hurdles faced by enterprises to set the stage. Then I'll touch upon the architecture and innovative solution presented by Ignitho using Domo's integrated platform.  
In my view, this solution concept promises to have a significant impact on simplifying and accelerating AI enabled CDP implementations in the enterprise.  
So, let's dive in.
Key Challenges Today  
Enterprises worldwide encounter several roadblocks when attempting to implement AI and unleash the power of their data to improve business performance and customer experience.  
During the webinar, we identified three key challenges that resonate with organizations across various industries: 
1. Fragmented BI & AI Capabilities  
Traditionally, businesses have had separate systems for Business Intelligence (BI), AI modeling, and storing insights for applications.
This fragmentation is on top of the myriad data stores and formats that enterprise data resides in today.  It leads to siloed data and complex integration processes.
As a result, enterprises often struggle to leverage the full potential of AI and analytics. Key BI initiatives are completed without any significant inclusion of AI. Clean data takes too long to be made available.
And even when AI models are created, there is no easy path to uniformly operationalize those insights into business use cases. 
2. Complex Machine Learning Ops 
It is logical to assume that once the AI models are created, they will be frequently (or continuously) updated with new data as and when it comes in.  
However, this closed loop analytics is not as easy to implement. That's because the data stores where the modeling takes place are often created after much data cleaning and migration.
So, when the applications do generate new data (and they do that continuously), it's a project by itself to get the new data over to the modeling team.  
This lack of streamlined processes and standardized frameworks often results in cumbersome and time-consuming operations, hindering the seamless integration of machine learning into enterprise data workflows. 
3. Last Mile Adoption  
Most enterprises face difficulties in driving widespread adoption of data-driven insights and solutions across their organizations.  
Generally, this is because the insights from the AI models do not find their way in an automated fashion to the applications that need to access it. They are often moved using various batch processes to databases that the business applications can access.
So as new models are developed, and as the insights are regenerated, there is a reliance on multiple ancillary processes – often batch – to make the insights available. 
This gap between data analytics and its practical applications hinders the realization of tangible business value. Bridging this gap is crucial today for achieving meaningful AI driven digital transformation. 
The Solution
We have technology available today that will address these challenges.  
To demonstrate that, we unveiled an architecture and a solution on the webinar that leverages Domo's integrated data platform.
Domo uniquely enables the following in one place:
Comprehensive connectors that also enable 2-way sync (update source systems as needed)
Hosting AI models on the same platform to avoid the back & forth of shipping insights to various databases
Ready API gateway to allow AI insights to be consumed easily by business apps
Leading edge BI dashboards (see Gartner report here) that seamlessly integrate the AI insights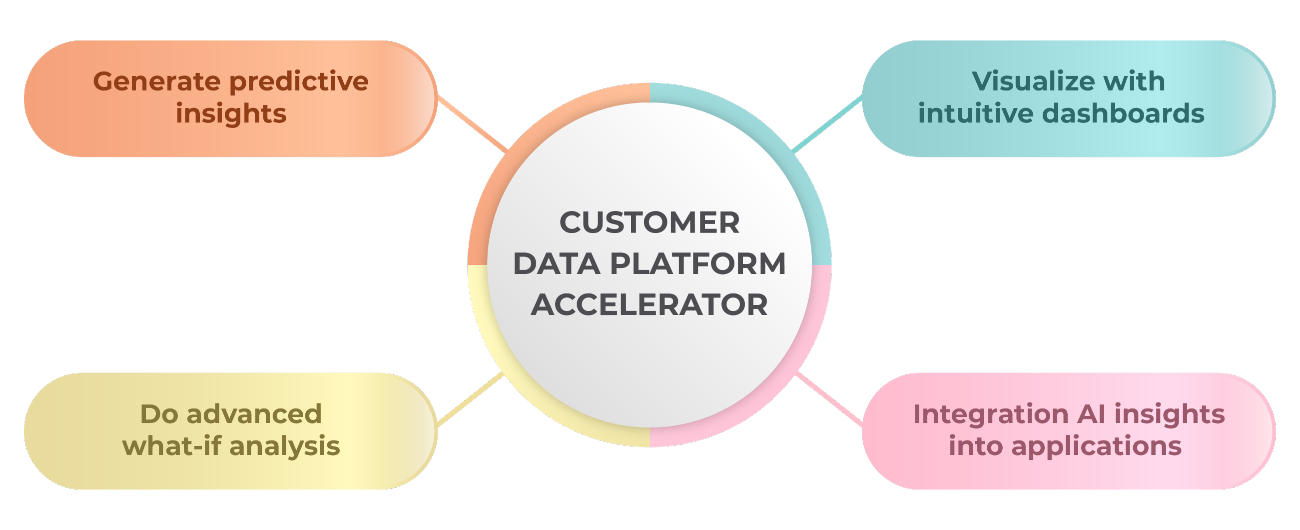 The solution not only brings all the necessary capabilities under one roof but also provides a seamless and unified experience for enterprises looking to harness the power of their data. Ignitho then build on top of this architecture by adding prebuilt AI models and BI dashboards to create a CDP accelerator.   
Integrated AI & BI 
We demonstrated how the various data sources can be brought together using Domo's comprehensive library of connectors. If you're using another platform for ETL and data aggregation, the end effect should be similar although Domo already integrates all this together.
Then we built upon this traditional capability to show how the AI models can be deployed on to the integrated platform
This in my view was a game changer. Now, not only do the BI dashboards automatically have advanced what-if analysis capabilities, but these insights are automatically made available via the platform APIs to any business application within the enterprise.  
By using the Domo platform in this way and consolidating these capabilities of data, AI, BI, and AI gateways, Ignitho can easily enable organizations to break down data silos and derive holistic closed loop insights in real time for informed decision-making – both internally and in customer facing applications. 
Simplified AI Implementation  
In such an integrated architecture, AI modeling becomes more accessible and manageable. The Ignitho team created multiple pre-built AI models and loaded them onto the Domo platform. The benefit is that all that's left to integrate is the right data sources using Domo's magic ETL capabilities, and you can fully circumvent the main challenges of implementing machine learning initiatives.  
Thus, this CDP solution accelerator by Ignitho created on the Domo platform enables organizations to expedite the implementation of AI enabled CDP initiatives. By providing predefined AI models and ready-to-use dashboards, Ignitho reduces the time required to go from concept to deployment, delivering tangible business value in a matter of weeks. 
During the webinar, we showcased a live demo of the AI enabled CDP concept in action. Participants witnessed how the integrated platform seamlessly integrates data from various sources, applies AI models to derive insights, and allows the insights to be accessed from a live customer facing website. The demonstration highlighted the simplicity, agility, and real-time nature of Domo's solution.  
Conclusion 
On this webinar we showed the possibilities of how the right application of technology provides a comprehensive solution to key AI challenges faced by enterprises.   
There is no doubt that enterprise adoption and change will not be an easy task given all the in-flight programs and the legacy infrastructure still in use for data storage, reporting and AI modeling.  
But by consolidating BI, AI modeling, and API gateways under one roof, Ignitho and Domo have shown the path to what a modern data driven enterprise will look like. 
You can watch the webinar recording here.